En España no tenemos buenas viejas. Es decir; aquí no hay una Kris Jenner en condiciones que haga que un reality funcione ni tampoco tenemos sagas dispuestas a entregarse a la causa. Sí que hay, y siempre según Fran Rivera, linajes; pero son linajes ancestrales, de costumbres muy raras para con sus hijas, totalmente innecesarias en cualquier show televisivo que pretenda ser actualidad. Naftalina.
Las Campos sí. Al parecer viven como una de esas grandes sagas de nombre y de fondos, con súper chalets en el extrarradio madrileño de postín por los que se pasea lo más florido de la tercera edad televisiva y del papel couché. Ellas son de las que cenan con el director de Hola!, de las que comparten mesas de la Cruz Roja con infantas y de las que se suben a barcos en Marbella. No son suyos pero se suben; la cuestión es subirse. Ahora también se suben al carro del reality show, noticia sorprendente que las coloca en una posición un tanto extraña.
Y es que la tradición de telerrealidad española viene marcada por formatos clásicos que aguantan bien el tiempo, por chungas adaptaciones playeras o por dating shows capaces de exportar personajes esperpénticos con tan solo un par de efectos de sonido, pero el primer problema con las Campos surge paradójicamente de su primera gran baza: ELLAS YA SON ESPERPENTO. Ellas ya son tróspidas, casposas y desactualizadas, tres elementos que serían un filón para cualquier productor televisivo de no ser por el pudor y la soberbia que se les intuye a las dos protagonistas. Se desconocen los términos en los que habrán aceptado el rodaje del capítulo piloto, pero puede que sea la primera vez en la historia del género en la que el esperpento termine siendo producido como perfil serio. Error.
Tranquilidad, hay esperanza. En nuestro intento de evitarlo a toda costa hemos descubierto que el manual de estilo de Anna Dello Russo, Fashion Shower, tiene todas las claves del éxito para la moda, la televisión y para la vida misma. No hay más que verla a ella y recordar una premisa importante: la Televisión es más auténtica cuanto más se parece a lo que el público soñó con ver.
[iframe id="https://www.youtube.com/embed/QexORwgCbc4″ align="center" mode="normal" autoplay="no" maxwidth="1080″]
Lesson Number 1. Fashion is a declaration of your own freedom.
Libertad y Campos. A priori no casa, es decir, no nos imaginamos a los cámaras de Mediaset pudiendo acceder a cualquier rincón de las casas y grabando todo cuánto quieran mientras Terelu mira de reojo al cámara que está enfocando sus babuchas de andar por casa.
Por otro lado, si la moda es libre, la pequeña de The Campos es anarquía hecha doctrina. Por mucho postín que desprendan, las Campos son probablemente el máximo esplendor de la nueva rica. Marcas, logos, alhajas y print, mucho print. Enseñarlo será un punto a favor.
Lesson Number 2. Between style and fashion? Absolutely SHOW.
Sí, la decrépita italiana grita con fuerza que entre estilo y moda: ¡¡siempre moda!! O sea, circo. En el género reality lo traducimos a '¿entre periodismo y show?… SIEMPRE SHOW'. Seamos francos, los primeros datos que se avanzan del programa apuntan a un formato a caballo entre reality y programa de entrevistas, a lo Bertín o Pepa Bueno. Muy bien tienen que conseguir el equlibrio entre la Mari Tere que desayuna huevos en bata y la que por la tarde entrevista a personajes tipo Mario Vargas Llosa para conseguir éxito y difusión.
El periodismo es necesario y la televisión necesita de todos los talk show y Late Motiv de calidad que aparezcan, sí, pero de The Campos lo último que esperamos es un alarde tardío del buen hacer periodístico de Terelu, francamente.
Lesson Number 3. Fashion is always uncomfortable.
Tan incómodo como un Jeffrey Campbell pero tan lucido como un Louboutin. La moda in extremis es de todo menos cómoda. El reality, como género televisivo más extremo e hiperrealista también ha de serlo. Incómodo de grabar, pues por muchas cláusulas que uno negocie también pesan, y más, las que admite. Conociendo a Mediaset y a sus dos grandes damas sin duda habrá momentos tensos, de incomprensión e incluso de arrepentimiento.
Alguien deberá explicarle muy bien a la soberbia de las Campos que en este género cuanto más se enseñe mejor. Dello Russo rules: if you feel comfortable, you never get the look.
Lesson Number 4. Fabulous at every age.
María Teresa es una señora muy digna a su edad. Y tal.
Lesson Number 5. Wearing night cloths in the day time is unexpected.
Fracaso seguro. Si algo gusta a las Campos es ir siempre vestidas para matar. Faja, tacón y perfume son su idiosincrasia más esencial, sea la hora que sea y vayan donde vayan. Además sus matices profesionales siguen la misma regla, es decir, entrevistan de la misma forma a Mariano Rajoy que a Oriana de Mujeres y Hombres… Si el reality pretende seguir la 'seriedad' periodística desactualizada de sus protagonistas tendrá un futuro más que corto, el caso Patiño lo confirma.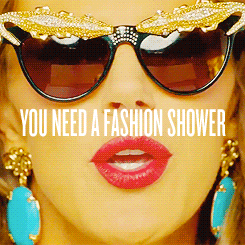 Lesson Number 6. Somebody wearing your same outfit? Wonderful, you did the right choice.
La sexta regla básica es copiar los aspectos positivos de formatos similares que triunfan. Es decir, se necesitará mucho elemento Kardashians o Alaska & Mario con el que el público identifica el género reality para poder seguir adelante. El tema entrevistas ya damos por hecho que prácticamente calcará el formato de En tu casa o en la mía… así que el programa puede resultar cómodo y triunfar precisamente por las bajas cotas de riesgo que asuma o bien fracasar estrepitosamente en un copia y pega de formatos dirigido por el erróneo ideal de televisión que aún mantiene mamá Campos.
Lesson Number 7. You must wear outfit once.
O sea Campos, de repetir nada. Y repetir es, por ejemplo, entrevistar a Rocíito primero y después a Chayo Mohedano, o primero a Esperanza Gracia y segundo a Meli Camacho, la mujer menos creíble para dar consejos de belleza de la historia de la televisión. Eso es repetir. Only once please.
Lesson Number 8. Wear coat as a dress.
Hay que estar muy segura para usar un trench como vestido. Segura de una misma, de lo que muestra y de lo que esconda. Se llama pisar fuerte y las Campos solo conseguirán que su reality funcione si dejan de un lado complejos y éticas profesionales caducas. Ahí se está a lo que se está, al reality, y ese será su mejor abrigo si consiguen dejar las vergüenzas en el armario.
Lesson Number 9. It doesn't matter the size of your body. Fashion flatters everything.
No importa nada, nada. Si hasta ahora las Campos han permanecido en la cresta de la ola con diferentes edades, pesos y mechas, estamos seguros que el nuevo proyecto tampoco nos apartará definitivamente de su lado. La historia de la televisión tiene un capítulo reservado para ellas y tanto público como prensa responderían con el mismo énfasis al éxito o al fracaso. Puede que sobre todo al fracaso, pero en cualquier caso será rentable.
Lesson Number 10. Fashion jewels personalize your style. Gold, sumptuous, excess.
Exceso, brillo, sí. Ya que a nadie se le ha ocurrido filmar a las Tablada, no le perdonaríamos al show una versión aséptica de las Campos que para nada imaginamos. Ellas son Moraleja, restaurante tailandés, chupito de tequila, paquete de Marlboro Light, marcos dorados y personal de servicio con uniforme. Este punto es vital para que nos volquemos con el reality a golpe de gif y retweet. Si las Campos nos defraudan con ésto, nos quedamos sin programa en mitad de temporada.
En definitiva, hay muchas maneras de hacer del esperado reality todo un éxito y casi todas dependen de las propias protagonistas. No esperamos una realización divertida a las que nos tiene acostumbrados Eyeworks, ni siquiera un beso tímido en los labios de Bigote al amanecer. Lo que esperamos es que las protagonistas estén a la altura de un reality que tantos, por mucho tiempo, hemos estado soñando.
[…] el primer problema con las Campos surge paradójicamente de su primera gran baza: ELLAS YA SON ESPERPENTO.